Isle of Skye holidays
Holiday rentals - cottages & apartments to rent on the Isle of Skye
The Isle of Skye in the Inner Hebrides of Scotland is a treasure chest of places to explore. Surrounded by pristine natural beauty, the holiday parks and camping sites on Skye are in high demand throughout the year. Skye has many attractions that should not be missed when visiting the island. You can explore the grounds and gardens of the ancient castles that belonged to the Clan MacLeod and Clan MacDonaldor or even take a tour around the famous Talisker whisky distillery.
| At a glance... | |
| --- | --- |
| Fabulous beaches | ✔ |
| Family friendly villages | ✔ |
| Waterfalls | ✔ |
| Castles | ✔ |
| Mountains | ✔ |
| Nearest airport | Glasgow, 206 miles |
| Main towm - Portree | ✔ |
Featured cottgaes on the Isle of Skye
Many of our cottage holiday homes on the Isle of Skye come with all the facilities you would expect including wifi and satelite TV. The key consideration is timing - if you are planning a holiday during the peak summer months, the cottages tend to get booked up months in advance.
See all rentals
Things to see & do on the Isle of Skye
In addition to wandering around the fascinating and wonderful cities and villages, wining, dining and sight seeing, there are plenty of things to see and do for the whole family on Skye.
Dunvegan
Resting in the sea loch between Waternish and Durinish is the large village of Dunvegan towards the north end of the island. This area of Skye is basically 3 distinct peninsulas known as Trotternish, Waternish and Duirinish which boast towering cliffs that drop off into the sea. Dunvegan is another popular place on Skye for renting a cottage given the large selection of cafes, bars and restaurants in the town.
Sligachan
The small settlement of Sligachan looks on to the Cuillin mountains on the west side of Skye. It's a place that you'll see on countless postcards - the wild river Sligachan, Sgurr-Nan-Gillean and Glen Sligachan. If you like adventure and mesmorising scenery, Sligachan is a must see village.
| A few suggestions.... | |
| --- | --- |
| Climb Old Man of Storr | ✔ |
| Explore the Fairy Pools | ✔ |
| Experience the panoramic views from Brother's Point | ✔ |
| Kilt Rock and Mealt Falls | ✔ |
| Quiraing | ✔ |
| Dunvegan Castle | ✔ |
| Watch the sunset from Neist Point | ✔ |
| Fairy glen | ✔ |
| Hike along the trails around the Cuillins mountains | ✔ |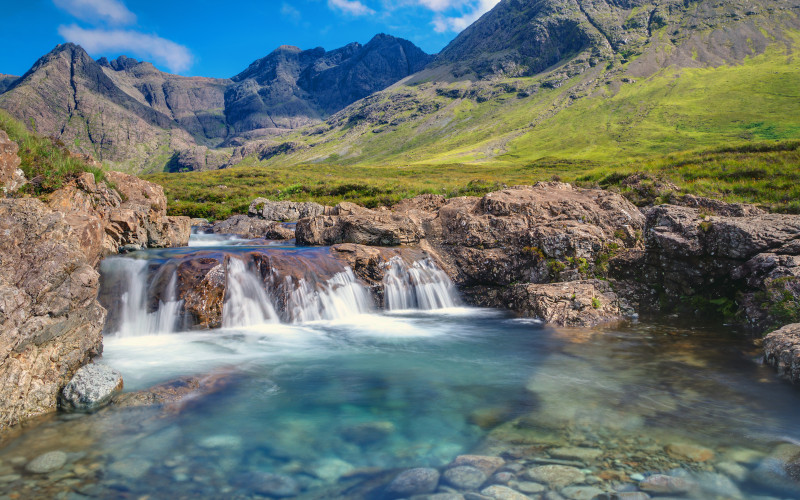 Our view on holidays on the Isle of Skye
Whilst Kvarner is not the first place in Croatia normally associated with a summer holiday, once you've been, it will entice you back time and again. With wondeerful beaches, pine forests and the Kvarner archipelago to explore, Kvarner should be visited at least once in your lifetime. Overall, Skye is a top family holiday destination, full of gastronomic tradition, rich in culture, history and incredibly friendly.
List your park holiday home
Holiday home rentals are getting more popular with families all over the UK
List your holiday park home on Myholidayparks.com today
List your holiday park
View properties in