Opatija holidays, Kvarner
Holiday rentals - villas & holiday homes to rent in Opatija
Opatija sits 13km west of the main port city of Rijeka and is a magnet for tourists. Once a very fashionable resort for the Austro-Hungarian socialites in the 19th century, Opatija is now a thriving melting pot of international tourists who are attracted by the beauty of the town, extensive range of restaurants and vibrant nightlife. With its magnificent public gardens, fountains and well-kept beaches, Opatija provides the perfect setting for the opulent villas that look down onto the seafront from the pine forest clad hills that surround the town.
Along the Opatija Riviera, there is a wide range of beaches for all ages from lido style full service beach clubs to quaint pebble / sandy beaches such as Slatina. The combination of warm crystal clear turquoise waters and stunning scenery is ideal for a perfect holiday. Not forgetting the 12km promenade, known as the "Lungomare", it stretches along the waterfront and is where to head to in the evenings. Lined with bars and restaurants, the whole promenade is bustling with activity with street food stalls, entertainers and shops.
| At a glance... | |
| --- | --- |
| Vibrant nightlife | ✔ |
| Marina | ✔ |
| Historical sites | ✔ |
| Vineyards | ✔ |
| Spa & wellness | ✔ |
| Casino | ✔ |
| 12km promenade | ✔ |
| Best beach | Lido Beach resort |
| International airport | Rijeka airport on Krk island |
Featured villas in Opatija
Opatija is a bustling tourist destination and offers a wide selection of self catering holiday rental accommodation from luxurious coastal villas to cosy apartments in the local villages. Renting a villa or holiday home in Opatija can be the ideal base for exploring the local area and other islands in the Kvarner archipelago and is perfect for families, friends and groups.
See all rentals
Things to see & do in and around Opatija
In addition to wandering around the fascinating seaside villages, wining, dining and sight seeing, there are plenty of things to see and do for the whole family on the island and around the Gulf of Kvarner.
| A few suggestions.... | |
| --- | --- |
| Visit the blue lagoon village Veli on Losinj Island | ✔ |
| Explore 13th century Trsat Castle in Rijeka | ✔ |
| Take a boat trip out to one of the islands and swim with the dolphins | ✔ |
| Sunbathe on Rab Island with its 22 sandy bays | ✔ |
| Tour Biserujka Cave on Krk Island | ✔ |
| Stroll along the 12km Lungomare Opatija promenade | ✔ |
| Wander around Nehaj Fortress and Park Nehaj, Krk Island | ✔ |
| Explore the medieval Cres Town with its Venetian Tower on Cres Island | ✔ |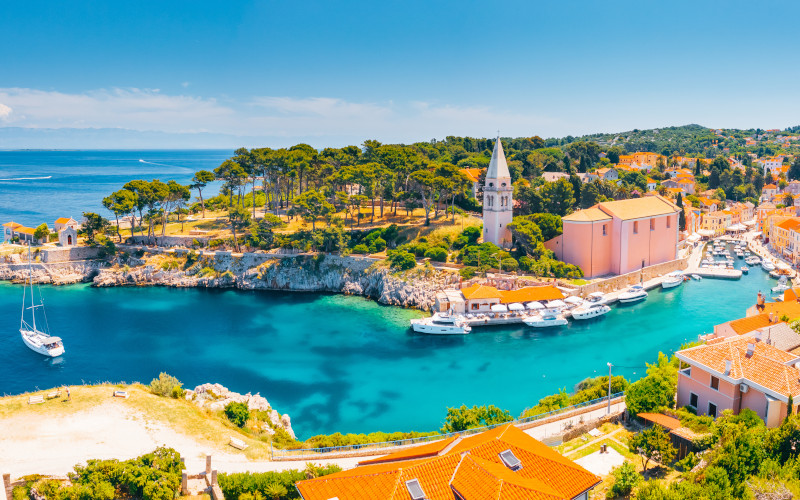 Our view on Opatija
A must-see island in the Kvarner Bay, krk Island oozes charm and character and is easily accessible from the mainland by car or ferry. Staying in a villa holiday rental is the best way to experience the island and is ideal for for families, friends and groups. Renting a holiday home provides the space, freedom and flexibility to do what you want, when you want - home from home.